HOME > SNOWSHOEING > ABOUT US
ABOUT US
FOREST & WATER NATURE GUIDES ARE SPECIALISTS WHEN IT COMES TO OUTDOOR SPORTS
OUR IDEOLOGY
Since our founding in 1996, we have always been driven to improve our outdoor tours to make enjoying the natural world as fun as possible for our customers.
Every time you say, "That was AWESOME!!" with a big smile, you make us feel really good about the job that we do. We want even more people to realize and experience how wonderful and enjoyable it is to be a part of nature. We want to keep on expanding and enriching our outdoor activities to show everyone how much fun outdoor sports can be.
At a bare minimum, our customers have a fantastic time on our tours, and are really impressed with what they are able to accomplish. And we, the staff of Forest & Water, also enjoy having a great time with you, and sharing the good memories. This is what drives us!! We want to keep on guiding you through the wonderful world of nature.
Realizing the importance of preserving the environment on a global scale, and to promote warm heartfelt relationships together, we want to provide enjoyable outdoor activities to all generations and to all peoples of the world! Let's explore together!
OUR BUSINESS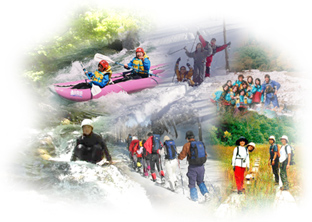 【Spring through Autumn】
You can enjoy rafting, canoeing, trekking and other outdoor activities throughout the season. We also hold as variety of social events to help make the friendships between our customers more active, intimate, and lasting.
【Summer】
Canyoning, more rafting, and our Family Canoeing Tour. Let's make this an unforgettable experience with lots of laughs!
【Winter】
Snow-Shoe Trekking. There are many things that you can do only in the winter, like following fresh animal footprints to their nests and sledding down snowy hills on your way back home.
Back Country. Shredding through the fresh snow, throwing up plumes of white, all the while enjoying the scenery of the mountains, is a favorite of our winter season guides. Get off the groomed runs and join us for a fantastic backcountry tour!
OUTLINE OF OUR COMPANY
Company Name
Forest & Water Co., Ltd.
Head Office
648-1 Takahinata, Minakami Town, Tone-gun, Gunma Pref. 379-1613
Tel:0278-72-8017
Founded
December 17, 1996
Capital
3 million Yen
President
Noriyuki Abe
Shikoku Office
6-1 Nagabuchi, Daiho Town, Nagaoka-gun, Kochi Pref. 789-0245
Tel: 0887-75-0920
Member of organization
・Japan River Guide Association
・Minakami Town Rafting Association
Comment from Noriyuki Abe (Our company president)
I had my first opportunity of working with a rafting company 20 years ago in New Zealand.
I was totally impressed with rafting, and had a strong desire to some day introduce this wonderful sport to the people in Japan.
I have had training and experience of rafting in Canada and other countries overseas as well.
Eventually I started "Forest & Water" with my desire to let everyone realize how enjoyable and relaxing it is to play in and be part of the world of nature. I will always to do my best to continually keep guiding you through this beautiful and wonderful outdoor world.